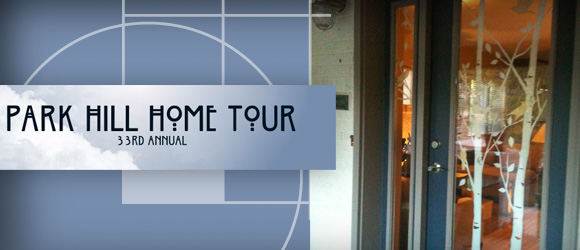 Last week, we had an amazing opportunity to share Debra's personal home as well as the Debra Toney product with nearly 2,000 community members as part of the Park Hill Home Tour. On a hot September Sunday, seven homeowners opened their doors to the community, and Debra was one of them. Though her home was by far the smallest home on the tour, we think it packed the most punch.
The newly remodeled bungalow is a model for urban living. Debra gutted nearly all the interior walls during the redesign, and the result is an open floor plan perfect for the way we live. The Home Tour's brochure cited the space's rich color combinations that create a retro ambiance, the flow and space provided by the layout, and the kitchen-centric design suited for modern living as highlights of the home.
When a home is built with the homeowner's use in mind, the result can be a highly functional, beautiful space, just like the one Debra created for herself and her family. The front porch with comfortable lounge seating invites regular Sunday guests and the warm whites in the kitchen provide an ideal backdrop for culinary adventures with grandkids. One major plus of this home: the 'walkability' of the neighborhood.
It's just a few blocks from a wine store and a local coffee shop, and the neighborhood is always hosting community-oriented events like the Home Tour, street fairs and block parties.
In order to prepare for the tour, Debra was forced to complete a few final touches on the space, one of which included forgoing the existing traditional blinds on the glass front door in favor of a privacy-creating, but very charming, decal featuring aspen trees and birds.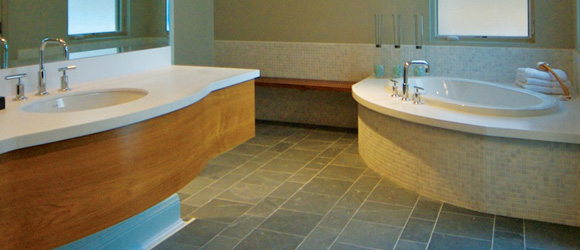 Remodeling kitchens and bathrooms is a hot topic these days. A designer's services will assure you of quality and distinctive style, but you may question – will a designer remodel break your bank? Debra Toney emphatically says, "NO!"
"We believe that an investment in good design enhances one's quality of life and should be available to everyone and priced accordingly, "states Debra Toney, 3 Week Kitchens – Baths in A Week.
Previously a well respected builder of homes in the premier Denver neighborhoods, Cherry Creek, Crestmoor, Hilltop and Park Hill, Toney now focuses her expertise on design services for remodeling, with a specialty in kitchens and bathrooms.
"As a builder, I have been very mindful of project costs at every stage of every project. As your designer, I will help you identify your budget and work within it, offering you the latest quality products with exceptional value and workmanship", Toney states.
Value for dollars is more important than ever. Selecting the correct remodeler can be a mystery and today's homeowner wants to feel assured that the contractor is going to deliver on all agreements, finish within the promised timeframe, and, will not exceed project budget. Debra Toney offers kitchen and bath remodeling installation within an attractive 3 week timeframe, and is well within range of current remodel cost averages in the Denver area.
Whether your project is on the low down, midrange, or upscale, Toney has a personalized approach that is never the cookie cutter variety that so many remodeling companies resort to – all within published regional cost averages. Comparisons of Debra Toney's Traditions Series and Signature Series kitchen packages, to the latest Remodeling Magazine "Cost vs. Value Report' reveal that Debra Toney pricing is, indeed, comparable. These comparisons supports Debra Toney's claim that you can have your designer kitchen and bathroom at an affordable price!