The Team
---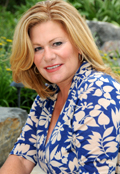 Debra Toney, Associate AIA
Principal, Design Specialist
Through her solid reputation for innovative design, architectural integrity, and consummate professionalism, Debra Toney has earned brand name recognition as an industry leader throughout Colorado.
Debra Toney Interior Design and Architectural Finishes, is a planning and design firm with a particular focus on designing architecturally significant projects within the existing footprint of our inner city homes. The company's kitchen and bath programs promote thinking globally by producing European Style cabinets locally. This encourages growth of our local economy and reduces the carbon footprint associated with shipping cabinets from out of state or from overseas locations. The cabinet lines represent designs that have garnered international awards and recognition. In 2009, Toney further streamlined the design and manufacturing process of her cabinet program. With the addition of her retail program Three Week Kitchens and Baths in a Week, she has packaged good design and services—and paired them with a quick delivery and a value-priced product, offering something not only beautiful and stylish but also contributing solid value to a clients home, at any budget. 3 & One, as it's become known, is similar in concept to the Martha Stewart line of well designed home goods, and is Debra's most popular program to date and has proven very timely for the current economy. The program is currently available to Colorado and Texas residents only. The reigning philosophy is one of exceptional beauty combined flawlessly with practicality and a desire to be attuned to the needs of the client. Debra adamantly believes that the aesthetics that surround us can change our mood and enhance our lives, and thus has applied this belief to her designs.
Her expansion during the current economic crisis reinforces Debra Toney's reputation as a forward thinker and industry expert. She's expanding in a down housing market and taking advantage of some downtime to retool, increase public awareness of her new expanded
services, and contribute something meaningful to the community.
We believe that an investment in good design enhances one's quality of life and should be available to everyone and priced accordingly. It is our goal to package good design, products and services in response to our client's needs and desires and to approach any job, large or small, with a commitment to maximize value.
Ms. Toney began developing in the Cherry Creek and surrounding market areas in 1999 and has won numerous awards for her stunning kitchen and bath designs. Her high profile projects are prominent in areas such as Hilltop, Cherry Creek, Crestmoor and Park Hill neighborhoods of Denver Colorado..
---
© Copyright debratoney.com